It took four years for cookie connoisseur and Sweet Dough Co. founder Jess Lowcher to develop the perfect chocolate chip cookie. Originally from the United States, she found that 'biscuits' were often too dry, and flavours relied mostly on the chocolate.
"I wanted a cookie dough base that was really flavourful, really vanilla-y, toffee-y, and buttery," Lowcher explains.

So, she began experimenting with recipes to determine what she liked and didn't like in cookies and how to create the soft American-style cookie that she was homesick for.

Lowcher also wanted to freeze the cookie dough and still get the same effect once baked because her cookie dough was her 'fail-proof' party contribution when she felt lazy. Once there, she could bake the cookies fresh.

People raved about her cookie dough and told her she should sell it, but Lowcher never dreamed about owning her own business.

Only after Lowcher began attending events at Venture Centre, an organisation supporting entrepreneurs in Tauranga, did it seem possible.
NO EXPERIENCE, NO PROBLEM
Around the time Lowcher began to understand the basics of entrepreneurship, her sister came to her with a book idea. Her daughters experienced a lot of fear around surfing, the family sport, and wanted to address their anxiety through a book. The only problem was, there weren't any action sport books that featured a female lead. So, she was going to write it herself and asked Lowcher to illustrate it.
Lowcher figured that if her sister experienced this problem, other families did as well. She took the book idea through COSTARTERS, Venture Centre's business building programme, and created the children's book series Tribe of Daughters. Years later, she used the same method to develop her idea for her cookie business.

"I feel like Tribe of Daughters was born because of the resources from Venture Centre. From there, I gained a bit more confidence to move into something new. Sweet Dough Co. came after that because I was like, 'I could do this,'" Lowcher explains.
FROM PARTY TREAT TO VIABLE BUSINESS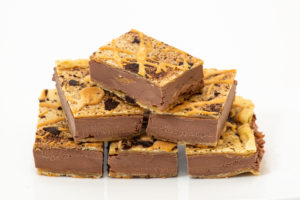 Sweet Dough Co. ice cream sammies.
With the help from business experts through Venture Centre's free office hours, and participating in their Startup Weekend and angel investor workshops, a new business began to take form.
Launching in 2019, Sweet Dough Co. initially launched as a 'dough log,' where it could be kept frozen, and people could slice off cookies and bake them whenever a craving struck – or for last-minute gatherings.

But a single 'log' lacked one vital thing – variety.
"I wanted to give people an option. People have families, and everyone likes different flavors, so I wanted to figure out a way to put different flavors in one pack," Lowcher explains.

So, Sweet Dough's cookie dough pivoted from a 'dough log' to pre-portioned, pre-shaped cookies in a range of flavours, with the option for a variety pack.

"You can just grab whichever cookie you want, put it on a tray, and in 10 minutes, you've got fresh cookies," says Lowcher.

Last summer, Sweet Dough Co. launched their ice cream sandwiches, or 'sammies', something Lowcher couldn't find in New Zealand precisely as she remembered.

"My biggest qualm with ice cream sammies is that when you eat them, the cookie breaks into a million pieces, and you've got crumbs in your lap and ice cream everywhere," she says.

Sweet Dough Co. launched four flavours of their new 'soft' ice cream sammies at Tauranga's summer food market, Dinner on the Domain, which started at 5:30 pm. By 7:00, they were sold out.

Since then, Sweet Dough Co. has expanded into catering for events and into their first retailers. They've recently set up frozen freight, brought their first investor on board, and are currently working on expanding across New Zealand.

To help communities raise money for social initiatives, Sweet Dough Co. now offers its cookie dough at a discounted price for fundraising, where schools and groups can keep the profits.

As Sweet Dough Co. grows, Lowcher consistently engages with a growing following. Her social media following helps her develop new flavors and names, such as the Cinnamon Donut cookie and the Choc PB Swirl sammie.

But above all, the variety pack continues to be the most popular, which would have only been possible with her pivot. It's one of the ways to spot an entrepreneur. Every step of the way, Lowcher does so, side-by-side, with her customers.